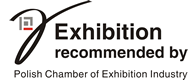 17.10.2016
The Gold Medal is an expert recommendation and in selected cases also consumer recommendation for the prize-winner products and services. See list of MTP Gold Medal winning products at the OPTYKA Fair 2016.
11.10.2016
Aesthetics is what arouses customers' emotions and influences upon their purchase decisions.
11.10.2016
Producers and distributors are to present their novelties in the Speaker's Corner.
More news
---

18-19 November 2016
Fair of good CONT(r)ACTS
OPTYKA 2016
We invite you to participate in the fourtf edition of OPTYKA Optical Fair 2016, a joint project of the Chamber of Polish Opticians and Międzynarodowe Targi Poznańskie. The fair is scheduled for 18-19 November 2016 in Poznań.
A record-breaking number of exhibitors are to participate in the joint venture of the Polish Chamber of Optical Crafts (KRIO) and the Poznań International Fair; there are nearly 120 participants registered already and application forms keep coming. Visitors are to see more than 400 brands of many producers from around the world.
We will be delighted to welcome you at the next edition of OPTYKA Optical Fair 2016.
We encourage you to actively contribute to this unique event.
OPTYKA Team