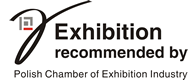 30.12.2016
On the occasion of the forthcoming New Year we would like to thank all our Exhibitors and Visitors, Partners and Friends for their cooperation and to wish them good health,happiness and every success.
22.12.2016
We wish you a peaceful and warm Christmas. Let this Christmas be for you an opportunity to relax, rest and spend time with your loved ones.
16.12.2016
We kindly invite you to visit Poznań International Fair! Here you will find business contacts, novelties and the chance to develop your passions. In the latest issue of Poznan Fair Magazine "Exhibition calendar 2017" we present trade fair events, organized by the International Fair for almost all industries.
More news
---

18-19 November 2016
Fair of good CONT(r)ACTS
OPTYKA 2016
We invite you to participate in the fourtf edition of OPTYKA Optical Fair 2016, a joint project of the Chamber of Polish Opticians and Międzynarodowe Targi Poznańskie. The fair is scheduled for 18-19 November 2016 in Poznań.
A record-breaking number of exhibitors are to participate in the joint venture of the Polish Chamber of Optical Crafts (KRIO) and the Poznań International Fair; there are nearly 120 participants registered already and application forms keep coming. Visitors are to see more than 400 brands of many producers from around the world.
We will be delighted to welcome you at the next edition of OPTYKA Optical Fair 2016.
We encourage you to actively contribute to this unique event.
OPTYKA Team