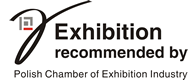 31.03.2017
OPTYKA Optical Fair 2018 promote the cutting-edge technology solutions on the optical market, creating opportunities for sharing experience, obtaining knowledge and constructing a platform for face-to-face meetings of representatives from the world of optical, science and business.
16.12.2016
We kindly invite you to visit Poznań International Fair! Here you will find business contacts, novelties and the chance to develop your passions. In the latest issue of Poznan Fair Magazine "Exhibition calendar 2017" we present trade fair events, organized by the International Fair for almost all industries.
18.11.2016
This will be the fifth time we have met at the OPTICAL Fair 2016, the fifth time more than 120 companies have presented their latest optical items in Poznań and the fifth time the event has become a venue for making contracts, gaining knowledge and obtaining information on the latest trends.
More news
---

23-24 November 2016
Fair of good CONT(r)ACTS
OPTYKA 2018